Most women collect more pieces of jewelry than they have convenient storage for. It doesn't start out that way, but they receive gifts of jewelry and end up buying a piece of jewelry that catches their eye as they walk past a display case.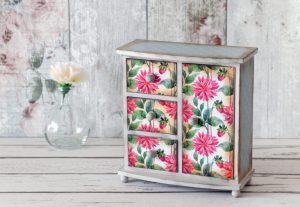 Some women focus on collecting jewelry sets in their favorite colors and styles. However the collection of rings, bracelets, earrings and necklaces grows, and most women want their jewelry stored in an organized way so it's convenient to find what they want in a hurry.
Young girls often have a jewelry box to store their treasures, but the average jewelry box is likely to become too small to store the jewelry wardrobe of an adult woman. The solution may be to purchase a larger jewelry box and specialized storage items such as a ring box and a dresser top earring tree. The average woman never stops collecting new jewelry items, although some pieces might break or be eliminated from her collection.
Whether a woman is searching for a safe and convenient way to store her valuable jewelry, or she just falls in love with a beautiful jewelry armoire, she can find a size and style she loves. Most armoires stand alone and are large enough to be considered a piece of furniture, but smaller ones that can sit on top of a dresser or chest are also available. The smaller versions are much more affordable and can be found in a price range of $50.00 to $100.00. This variety is similar to a large jewelry box, but they offer more options for organization.
Multi-function furniture is always desirable, so a jewelry armoire that also serves as a full length mirror is not only attractive but a convenient and space saving addition to bedroom furnishings. For bedrooms with very limited floor space, a jewelry cabinet that hangs on the wall or a closet door easily solves the problem.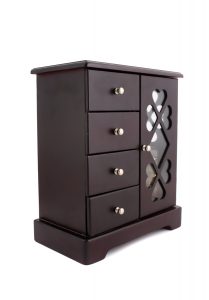 Jewelry storage pieces are available with a variety of convenient features such as lights to make it easier to find the desired piece. Since at least some of the items stored in a jewelry armoire will be valuable, having the ability to lock the cabinet is important.
In the event that a burglar should enter the home, they will be searching expensive jewelry to add to their stash. While thieves will be able to break open a locked cabinet, they are not likely to take the extra time required to do so. A locked armoire does provide an extra layer of protection for valuables, so this is a feature many people look for when making their choice.
Women are selective when choosing their home furnishings, so the style and color of any additional pieces is important to them. Since armoires are available in a wide variety of styles, types and colors, the perfect piece can likely be found. These specialized cabinets can be found in high end departments stores and often in jewelry stores.